What is Access Control?
Access control is an automated gate system that is used to control who has access to your property.
These gates come in many types, including swing and slide gates, cantilever gates, barrier arms, and more. American Access Company specializes in access control systems can be utilized for residential and commercial properties and can come equipped with accessories to add extra security.
PRODUCTS
GATE OPERATORS
Automated gate operators are perfect for opening and closing swing gates. Swing gate operators are available in various configurations and differences in voltages, horsepower, and phases and can have a marked impact on how your gate operates. In cooperation with other access devices, these operators provide security, convenience and prestige. You must take into consideration the type of gate, weight, length and cycles of use.
CONTROL ACCESS
Automatic gate openers are easy to use. Simply push the transmitter button to send a radio frequency code to your automated gate. American Access Company also sells programmable transmitters which can integrate with a controller, allowing you to provide individual codes to each transmitter for tracking usage and managing time zones. Automatic gate openers can be attached to your car's visor in the same manner as a garage door opener.
OPERATOR ACCESSORIES
These gate operator accessories are perfect for detecting vehicle traffic on top of the loop. Designed to 1) open a closed gate, 2) keep an open gate open, and 3) reverse a closing gate to full open, loop detectors for automated gates provide both safety and access for vehicles. Wired to the swing or slide gate operator, the detector can be adjusted for frequency and sensitivity. Loops (sold separately) are installed in the pavement below the vehicle and wired to the detector.
RESIDENTIAL GATES
At American Access, we understand the need for safe and secure environments. We strive to ensure your automated gate investment will protect your family for many years, offering customizable automated gate systems with many features and automated gate accessories to accent your lifestyle.
HIGH SECURITY
Facilities such as substations, airports, data centers, government buildings, power plants, and military bases need the highest-level security available on the market. These vital institutions can't afford to let any unauthorized personnel gain entrance.
SERVICES
Do you have an electric gate opener or automated gate system that is not working properly? Do you need professional assistance in repairing your gate opener or automatic gate system? Need to order parts now? American Access Company is the Midwest's largest automatic gate repair, automated gate opener repair, and gate access system repair service.
System Design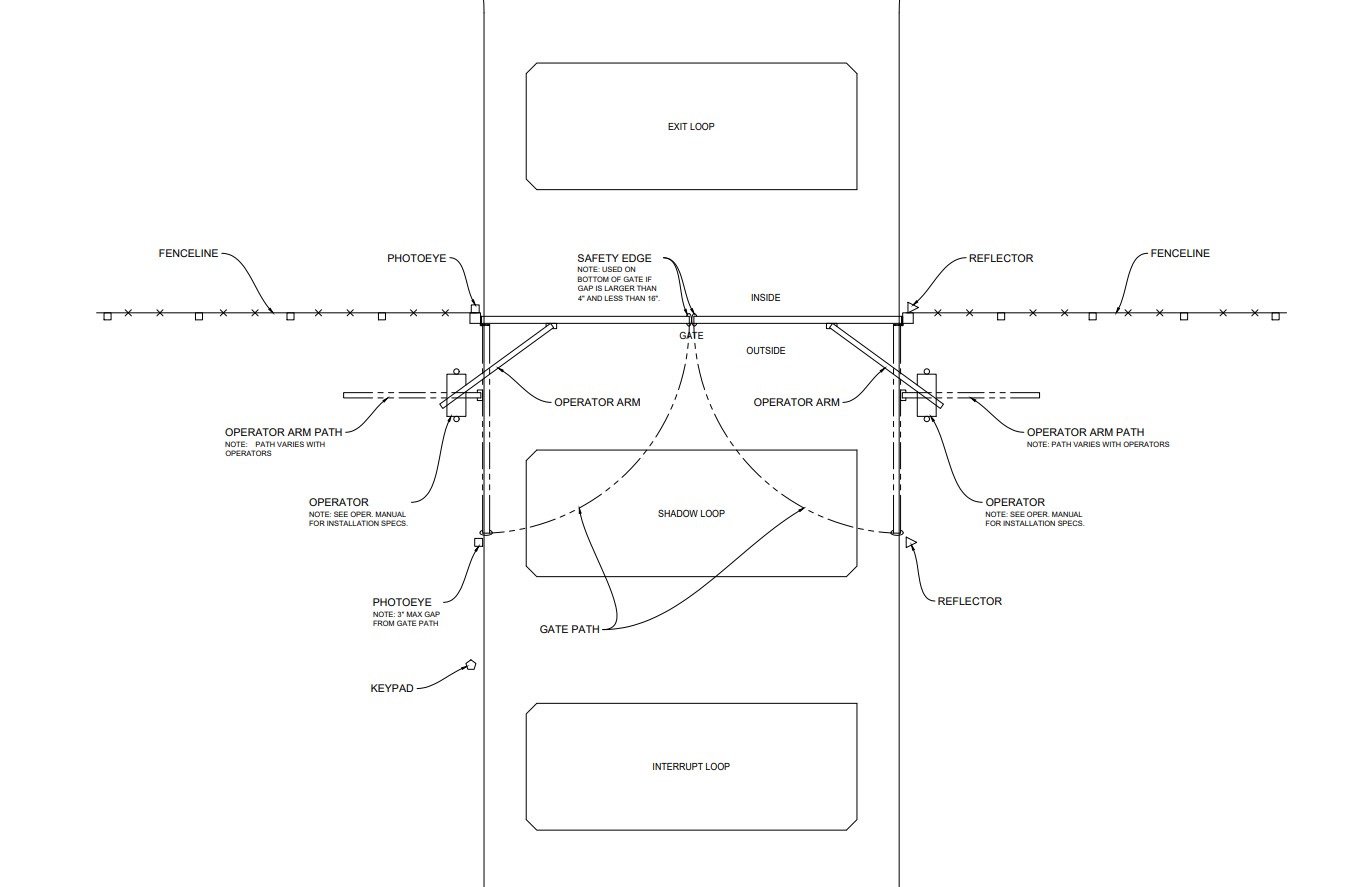 Benefits of Access Control & Automatic Gates
Security
Automated gates and other access control systems are your first security defense for your property. Intruders will be deterred from entering your property. Adding a camera and intercom system at your gate allows you to screen visitors—you decide who comes on to your property. Automated gates and access control systems prevent unauthorized personnel from entering your property.
Safety
American Access Company is adamant about following safety standards to ensure that your automatic gate system is installed and maintained properly. Proper installation and maintenance will not only protect your gate and operator from damage, but will also protect any visitors from being harmed on your property.
Privacy
With an automated gate access control system, you will be able to stop solicitors and unwanted guests before they get to your door. Automatic driveway gates in residential areas can give you a sense of privacy from nearby neighbors and busy streets. For businesses and commercial properties, extra privacy can be added with signage.
Curb Appeal
Looking to add an automated gate to your home or your business? A gate of any kind can enhance your property, but American Access Company can provide gates that not only boost curb appeal and also protect. We are able to customize any gate to fit the aesthetic of your home or business. Monograms, landscape designs and custom coloring are just a few of the design options we provide.
Property Value
By boosting your home or business's security, your property value will also increase. Adding automated gates, barrier arms, or high security access control systems to your property provide a layer of protection that will set your property aside from the rest for potential purchasers. Whether you're in the market to sell now or in the future, extra security will be beneficial to your property.
Insurance
Insurance is something many people don't think about when enhancing their property. Some insurance carriers will provide a smaller premium if your home or business has an added security defense such as automatic gates or barrier arms. Insurance carriers understand that your secure property has a smaller chance of being a victim of theft or damage.
American Access Company focuses solely on gate operator, barriers and access control systems. As a division of American Fence Company, we are the Midwest's largest reseller and installer of automatic gate components and gate operators. Proudly offering automatic gate installation, automatic gate maintenance and automatic repair services to Grand Island, Nebraska; Lincoln, Nebraska; Omaha, Nebraska; Sioux City, Iowa; Des Moines, Iowa; Kansas City, Kansas; Rochester, Minnesota; and Sioux Falls, South Dakota.
Our staff is assembled and trained and our in-stock inventory of parts is growing. We stand ready to assist you. Request a Free Estimate today!