Arm Barrier Gate Operators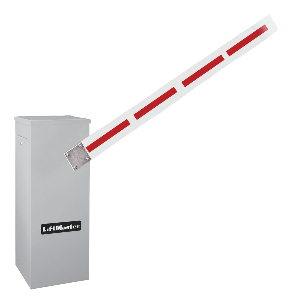 Barrier gates come in multiple forms. In industrial and commercial areas, the most commonly found barrier system are the single and wishbone barrier arm gates. Barrier arm gates range in size depending on the width of the traffic lane or the number of traffic lanes. Barrier arm gate operators are very affordable compared to slide and swing gate operators. With few moving parts and little loading, barrier arm operators should provide many years of operation. Since standard and wishbone arm barrier gates are made with different features, American Access Company's experts will guide you in choosing the best fit for your project.
Standard Barrier Arms
Standard, single arm barrier gate operators are ideal for industrial and commercial operations such as airports, parking garages, and manufacturing plants. These barrier arm gates are built for durability and high-traffic, continuous use. Standard barrier arm gates can be up to 15' in length, and up to 25 lbs. in weight.
Wishbone Barrier Arms
Wishbone arm barrier gate operators are designed to control wide traffic lanes in areas like loading docks and industrial sites. Wishbone barrier arm gates have double arms are added stability. Wishbone barrier arm gates extend further than standard barrier arms with lengths from 15'-28' and can be mounted on either the left or right side of the roadway.
Gate Control Options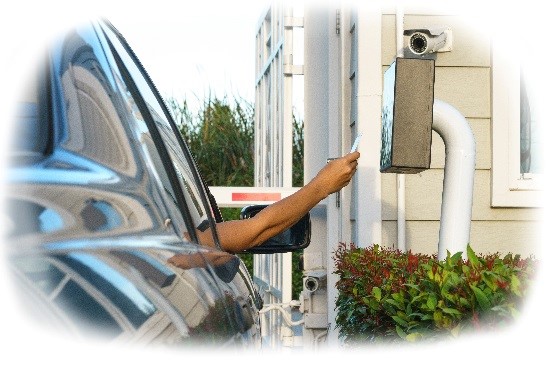 Just like there is more than one type of barrier arm, there is more than one way to control your gate operator. Whether you're looking to have remote access, a PIN code, a badge reader, phone entry, or even a smartphone app, our experts can assist you in finding the gate operator control device for your project.
Barrier Arm Accessories
All barrier arm gates can come with accessories that will suit the specific needs of your project. These accessories include:
Spikes
These are ideal for applications that require a higher level of security and traffic control. Traffic spikes may be set in a concrete footing, mounted to the top of a concrete surface or temporary deployed across a drive. Traffic spikes are available in allowing traffic one-way access or no access. When the driver pulls-up over the spikes from one direction, the spikes will drop. From the other direction, the spikes hold firm. Spikes are also expandable. You may add additional section to increase the width of coverage. Traffic spikes are also available in mechanical and automated configurations. Automated spikes lower based on commands received from an access control device such as a key pad or card reader.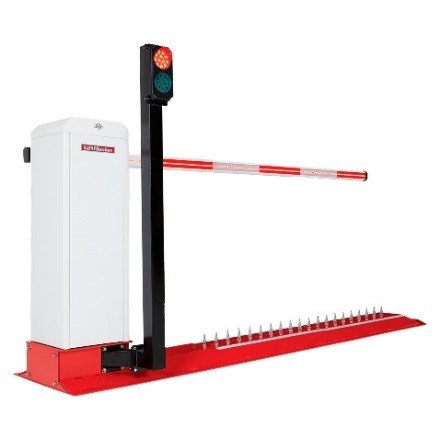 Traffic lights
These regulate the flow of traffic and advise the driver when it is safe to pull forward. In high traffic situations or where there is pressure to move forward, traffic lights are a necessity. The lights will advise the driver in advance of the arm when he may pull forward or stop. This removes guessing when the arm might go up or down. It also assists in preventing tailgating by advising the driver in the rear that the arm is ready to come down when the light is red.
Coin Operation
The most common accessory for barrier arm operation is a coin. Coin operation, pay-on-entry systems and contactless/card payment systems allow for a pre-set monetary value to be received before access is allowed. The system can be designed to received coins, paper and credit card payments. A change machine may also be added to allow users to use only coins.
Proximity Readers
These readers are growing in popularity in high traffic situations where the system needs to process users quickly. These proximity devices allow for a card, fab or device to be installed in the car that the reader may quickly read to allow access. You may also use a bar code system where the reader quickly reads the code at a distance and allows access.
Crash-Rated Barrier Arms
Barrier arms are often the first line of defense at an entrance point. They may not look like much compared to other security installments, but crash-rated barrier arms are capable of stopping a multi-ton moving vehicle driving at it at high speeds. Crash-rated barrier arms can be categorized into different K rated or M rated categories, per the standards set forth by the U.S. State Department.
K4 or M30 barrier arms – Certified to be able stop a 15,000-pound vehicle that is traveling at speeds up to 30 miles per hour
K8 barrier arms – Certified to be able to stop a 15,000-pound vehicle driving at speeds up to 40 miles per hour
K12 or M50 barrier arms – Certified to be able to stop a 15,000-pound moving vehicle traveling at speeds up to 50 miles per hour.
With each terrorist attack, crash-rated barriers become more and more in demand. Not only are data centers, substations, power plants and military facilities utilizing crash-rated barriers, but they have now become more popular in the commercial and high-profile residential sectors.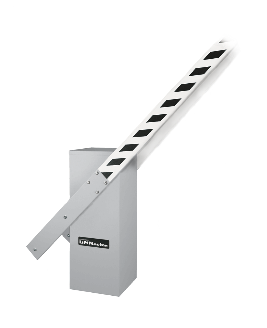 Applications
One of the most common applications for barrier arms is for parking facilities. Barrier arms help control the stream of traffic while also providing some extra security. Barrier arms are easy enough to get around for someone walking on foot, so barrier arms are best used in areas that need some access control specifically for vehicles.
When considering what barrier arm would be best for your application, you must consider a few things:
Width – You may think your barrier arm would need to be as long as the width of your traffic lane(s), but as long as a vehicle cannot drive around the arm, it can be much shorter
Purpose – Do you just need some traffic control, or do you need the security to stop a moving vehicle in its tracks?
Security – Would the barrier arm be your only means of security? If your facility needs a certain level of security, you should have other security measures in place along with the barrier arm
Lanes – Do you need to cover 1 or 2 lanes of traffic? Are they going in the same or opposite direction?
Installation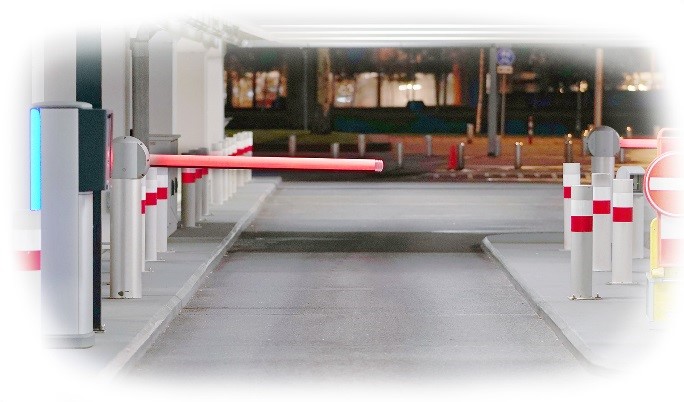 When deciding where your arm barrier gate operator needs to be installed, consider the following:
Where is the best location to stop traffic without creating a potential hazard for drivers? Barrier arms should be located so that the car may fully pull into the lane and not be left exposed to fast moving traffic.
The volume of traffic should also be considered. If the location of the barrier only allows for one vehicle to safely pull into the lane while other motorist line-up onto a busy street, consideration should be given to realigning the traffic lanes to allow the barrier arm to be moved forward into the facility. This is also where proximity type readers are a necessity.
The barrier arm operator should not be a hazard or obstacle for drivers. It should be located off of the drive.
The barrier arm operator should not be a safety concern for pedestrians. Locating the barrier arm on a busy sidewalk may engage others as the counter balance or pivot point of the arm operates.
The barrier arm will require electricity and control wiring. Consideration may be given to where it makes good sense to pull power and control wiring.
The barrier arm operator will require a solid concrete pad or footing. Placing the arm in loose landscape materials or behind a retaining wall may not provide the structural support for the foundation.
The barrier arm length does not need to stretch across the roadway; the barrier arm should be long enough to keep a vehicle from driving around it.
The Experts
American Access Company focuses solely on gate operators, barriers, and automated gate systems. As the Midwest's largest reseller and installer of automated gate systems, the American Access Company team is full of experts who have been trained by the manufacturers to design, sell, install, and maintain your automatic gate system. American Access Company installs over five-hundred automated automated gate systems a year. Visit our website to schedule your free estimate with our team of gate access control experts.
---
We proudly offer these services and more in Sioux Falls, South Dakota; Rochester, Minnesota; Kansas City, Kansas; Grand Island, Nebraska; Omaha, Nebraska; Lincoln, Nebraska; Sioux City, Iowa; and Des Moines, Iowa.