If you're in the process of making the decision to install or have an automated gate company install an automatic gate on your property, it can feel like you're remodeling a kitchen. You have to figure out what style of gate you want (ornamental or chain link), what type of gate (swing, cantilever, slide or vertical lift gate), and choose from an infinite array of colors.
Pairing Gate with Access Controls
After you've made your decisions on your automated gate's style, type and color, then you have to figure out what kind of access controls you want for the gate. There are several excellent brands of gate operators, including HySecurity, LiftMaster and Linear Osco. You also need to decide if you want the gate operator off the ground, mounted to a post structure, mounted to a riser stand, or mounted on a concrete pad.
While you're making all these decisions, you need to ask yourself whether all these factors and components will work together. Below is an example of some decisions a customer might make: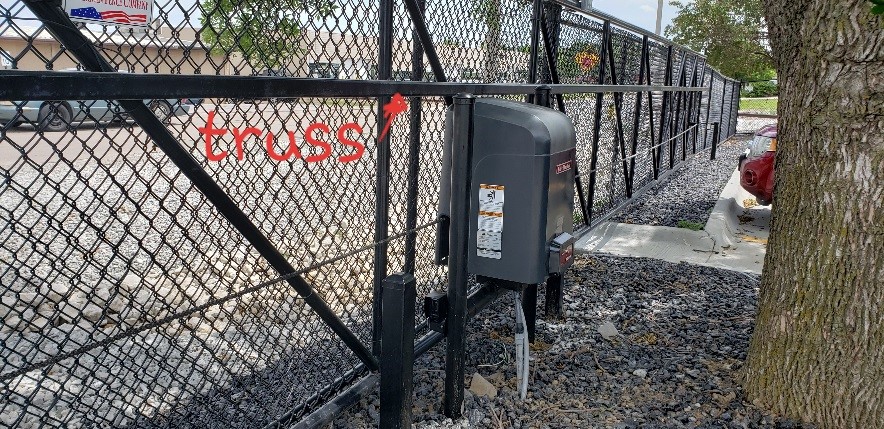 Style: Chain link gate
Type: Cantilever
Color: Black
Operator: LiftMaster
Mounting: H stand
Putting this combination together looks great. The operator is a great name brand and the H stand will help keep the snow from covering the operator in the snowy months in the Midwest. Looks perfectly planned out, right? No, you need to understand how the gate will be constructed.
Complementing Parts
Knowing how the gate will be constructed may change a few components of how the operator is placed on a stand or on a concrete pad. Depending on the length of the cantilever, it may need to have a truss welded on the plane of the gate to stiffen the gate up as it travels back and forth.
Wind can be an obstacle when your gate is in motion. A swaying gate can trip the safety device such as a photo eye, sending the gate in the opposite desired direction. The truss is a very important structure to have welded on the gate, but can also get in the way of the operator if you would like to keep the operator up and off the ground. Knowing how the operator enclosure is removed and/or opens is one of the components that can get over looked.
As a whole, there are many decisions to be made and you need have them all synchronized for a smooth installation. However, these are not the only questions you must ask yourself before moving forward with installing an automated gate.
Leave it to the Experts
American Access Company is an expert in automated gate installation, repair, maintenance and design. We keep every slight detail in mind to make sure you have the most efficient and trouble-free automated gate as possible. Request a free quote or contact us today to see how we can be beneficial for your automated gate project.